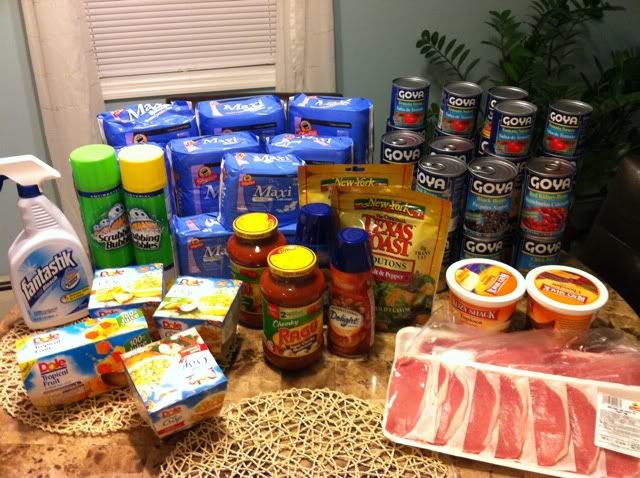 This week's trip to ShopRite had to be broken down into two transactions for two reasons:
1. I wanted to use the catalina I recieved from the SR Maxi Pad deal to purchase my other groceries to cut down on the out of pocket cost.
2. There was a limit of 6 offers per transaction on the Goya beans and since we use them almost every week I wanted to stock up!
This is how my trip went:
Transaction 1:
9 SR Maxi Pads - On Sale $0.99ea
6 cans premium Goya beans - On Sale 2/$1.00
4 cans low sodium Goya beans - On Sale 2/$/100
Used 2 $0.75/3 Goya printable
here
Used 2 $0.60/2 Goya printable
here
Total: $9.19 + Received a $10.00 Catalina
Saved: $23.08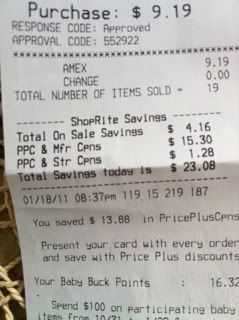 Transaction 2:
6 cans premium Goya beans - On Sale 2/$1.00
4 cans low sodium Goya beans - On Sale 2/$/100
2 Kozy Shack Pudding - On Sale $1.49
2 Ragu Sauce - On Sale $0.99
2 International Delight - On Sale $0.99
2 Texas Toast Crouton - On Sale $0.99
2 Scrubbing Bubbles - On Sale $1.99
1 Fantastik - On Sale $1.99
3 Dole Crisps - On Sale 3/$5.00
1 Dole Fruit cup - On Sale $2.00
I Boneless Pork Chop - $2.93
1 Boneless Pork Ribs - $3.91
Coupons Used:
2 - $0.75/3 Goya printable
here
2 - $0.60/2 Goya printable
here
2 - $0.55/1 Kozy Shack
Printable
2 - $0.55 International Delight printable
here
2 - $0.50/1 NY Brand Product printable
here
2 - $0.75/1 Scrubbing Bubbles Shower Foamer (SmartSource 1/9/11)
1 - $0.75/1 Fantastik All Purpose Cleaner (SmartSource 1/9/11)
4 - $1.00/1 Dole Fruit Crisp (SmartSource 1/9/11)
1 - $10.00 Catalina from Transaction 1
Total: $5.95 + received $1.00 cat from Dole + received $1.00 cat from Ragu
Saved: $57.75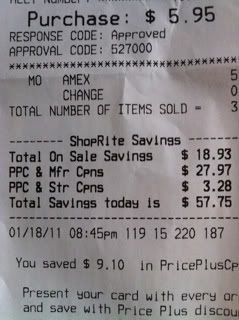 Total Trip:
Spent $15.14 + Received $2.00 in Catalinas for future purchase + Saved $80.83
View all of My Shopping Trips
here